PR Redefined: Public Relations in 2023 and Beyond
by Pete Kidd on Jan 10, 2023 2:39:00 PM
Being a public relations professional in 2023 means more day-to-day demands than ever before. From Environmental, Social and Governance (ESG) communications, to increased PR measurement, it's a lot to manage.
It's become extremely clear how vital the PR and communications function is to entire businesses. From crisis to purpose, from reputation to investor relations, PR is being brought into the conversation at the very start—and it's remaining in the conversation throughout the entire process.
We recently partnered with PRWeek to survey in-house and agency leaders about how these changes are manifesting themselves on a daily basis. The results gleaned from the nearly 200 PR pros who took our survey show just how PR is being redefined.
Keep reading to learn more about this important survey and its key takeaways.
For PR Pros, There's So Much More To Do
95% of survey respondents said that the expectations placed on PR are greater now than ever before. The sheer volume of matters in which PR pros are now shouldering responsibility has never been higher.
The C-suite, in turn, expects high-level counsel on all of it. In truth, this is a result that is driven by the greater expectations the public has of businesses to lead on social issues.
"We're in a moment in which our society is transforming in several aspects that are bringing companies into a space in which they typically would not play such an active role," suggests Alfredo Richard, EVP of Communications at NBCUniversal Telemundo. "When that happens, the communications person comes with it."
Areas our respondents noted increased oversight included internal communications (95.0% work on it, 45.3% more than two years ago), employee recruitment and retention (86.7% work on it, 39.8% more than two years ago) and data collection and analysis (94.5% work on it, 47.5% more than two years ago).
In terms of responsibilities that have increased over the past two years, the clear two frontrunners are Diversity, Equity and Inclusion (DEI) (93.4% work on it, with a whopping 76.2% doing so more than two years ago) and matters related to ESG and purpose (95.0% work on it, 61.3% more than two years ago).
When It Comes to Content, Don't Forget the Fundamentals
The types of content PR pros are responsible for producing (either entirely or partially) has greatly expanded in recent years - think social media, podcasts, etc. However, this doesn't mean that the fundamentals have been forgotten.
The traditional press release still has value, asserts Liza Bychkov-Suloti, co-founder, partner and CCO of Shadow PR. It contains everything reporters and editors need: timelines, pricing, ingredients, executive quotes, and the brand voice.
"The way we expect people to react to the release has shifted," she notes. "Now, it's just a supplementary tool to be able to carry the full story."
Below, check out a snapshot of six types of content and how much time our respondents say they spend on each - including press releases.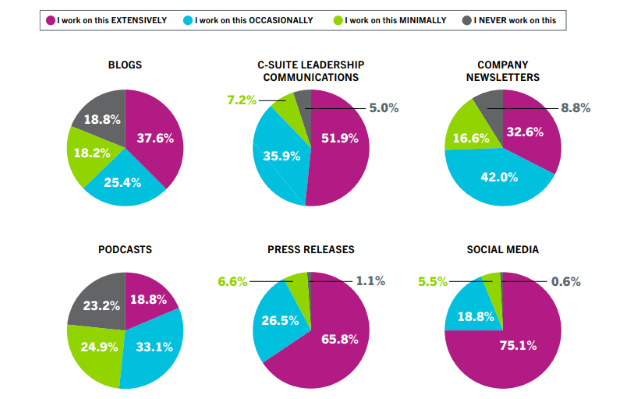 Even More Metrics
PR is not just an art - it's now very much a combination of art and science. Major advances in data and analytics have hugely facilitated this.
In fact, the question is no longer about whether you measure and analyze. It's WHAT you measure and analyze and how WELL you do it. The correlation between strong metrics and strong PR is inescapable.
To that end, two things stood out from our respondents when we asked them to indicate how strong their data was in certain areas: A vast majority (90.6%) identify audience reach as a strength, while nearly half (46.4%) admit continued weakness at measuring PR's direct impact on the bottom line.
For the latter, Priyanka Shah, VP of IR and Communications at Kinnate Biopharma, advises, "Focus on having that clear alignment on the goals in the priority audiences. You can't undermine the importance of that because you don't want to boil the ocean. Have a baseline reputation score among your predefined priority audience and then determine what measures you'll find most valuable so that you know if you're making an impact or not."
Below, check out how our respondents ranked themselves when it came to three specific metrics.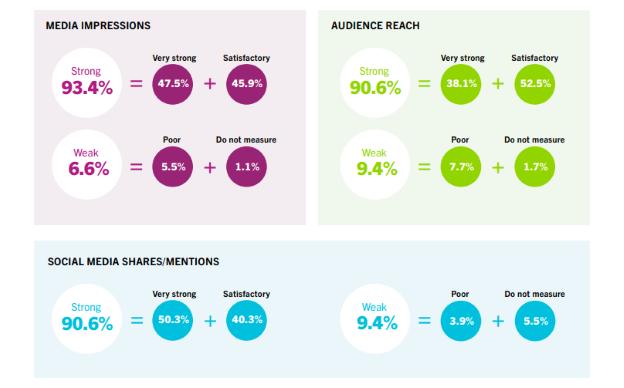 Download Our Free Public Relations eBook
When you download our eBook, you get even more key data points and takeaways from the Notified/PRWeek survey.
You'll learn even more about:
How new responsibilities like ESG and DEI are impacting PR's areas of focus
Which content types are most successful
What metrics PR pros are measuring
How PR compares to marketing when it comes to measurement
We hope you enjoy this free resource created in partnership with PRWeek.