How to Plan a Virtual Event: Monetizing Your Event With Sponsorships
by Pete Kidd on Mar 14, 2023 3:27:00 PM
One question we hear a lot at Notified is: "How can I monetize my virtual event?" The answer lies in virtual event sponsorship opportunities.
Hosting an event includes both hard and soft costs. Obviously, there is the cost of the event technology. Beyond that, however, there are costs associated with A/V and presenters' equipment, as well as the time and resources necessary to successfully plan, sell and execute the event.
These costs can be intimidating, and it's reasonable for event planners (and their company stakeholders) to question how a virtual event will produce ROI.
While selling tickets and charging attendees admission is also possible, creating attractive sponsorship opportunities is the best way to monetize your event.
Here's how to monetize your virtual event with sponsorships.
How Do I Monetize a Virtual Event?
Unlike an in-person event, virtual event environments live beyond the event dates and can be updated and promoted for months afterward. Highlight this fact when speaking to potential event sponsors.
Virtual event spaces offer a wealth of digital inventory to monetize – session tracks, badges, networking lounges, exhibit booths, welcome messages and videos – all available for your potential sponsors. And before you design your sponsorship packages, it's important to identify which of these spaces you'd like to make available to sponsors.
Self Esteem Brands' virtual event lobby with sponsor banners.
Here are a few examples of how our customers have successfully monetized virtual event environments.
Display Ads
Take advantage of display ad inventory available to you in your virtual event platform. Some platforms provide display units in IAB-compliant sizes, allowing sponsors to re-use creative assets from their display advertising campaigns. As with display advertising, multiple ads can be served in rotation and be hyperlinked to the sponsor's website or landing page. Display ads can also link to the sponsor's virtual booth or to their sponsored webinar listing.
Webinars and Session Tracks
Just like sponsoring a track at an in-person conference, you can present sponsorship opportunities for a track or individual webinars at your virtual event. Webinar sponsorships are attractive opportunities because they typically include giving sponsors a list of attendees who viewed the webinar.
For sponsors, this is the biggest factor in determining their sponsorship ROI. You can also allow sponsors to place their brand elements in the webinar console. In addition, you can include sponsor handouts including a call-to-action in the presentation.
Alternatively, you can sell sponsorship of vendor-specific webinars, allowing exhibitors to take center stage and provide a presentation on a topic they choose.
Event Microsite
Your event microsite is a web page that provides basic information about the event: the title, date and time, schedule, speaker bios, registration form and more. Leverage your event microsite to list and promote your sponsors. List their logo and hyperlink to their website.
Email Blasts
When you schedule email blasts to promote your virtual event, include a list of your sponsors. In addition, list your sponsors in your auto-generated confirmation and reminder emails.
Games
Gamification can be an effective tool for generating and sustaining attendee engagement. They can further engage attendees in your event's content while fostering connections and networking among attendees. You can sell sponsorship packages around individual games, enabling sponsors to incorporate their branding and messaging in the game. You can also provide a game dedicated to a single sponsor, allowing them to dictate the content.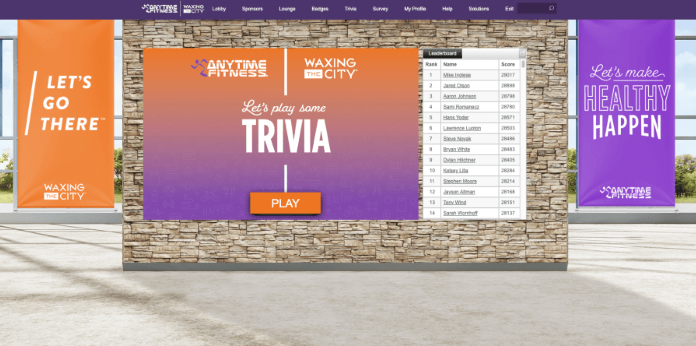 Self Esteem Brands virtual event trivia.
How Do I Create Virtual Event Sponsorship Packages?
Now that you've identified the areas within your virtual event you'd like to make available for sponsorship opportunities, it's time to build your packages.
Creating sponsorship packages is more art than science. You want to ensure that your package descriptions are clear and that they provide tangible value to your potential sponsors.
Here are a few best practices to consider when creating your sponsorship packages:
Create tiered packages: Include a variety of features and options at different price points. A tier of packages allows your top sponsors to receive all the benefits they'd like while providing first-time sponsors with a lower entry point.

Create a clear delineation between package tiers: Ensure sponsors see a clear difference in value from one tier to the next. If the $15,000 sponsor package looks too close to the $10,000 sponsor package, it becomes too easy to select the $10,000 option. Be sure there's a clear reason for a sponsor to step up from one level to the next.

Use a small set of packages: Less choice makes things easier for sponsors. It's also easier for your sales team. We recommend that you create no more than five sponsorship packages.

Use scarcity to your advantage: Making a single Platinum sponsor package available can encourage your sponsors to "one up" each other in their bid to secure that package. In addition, it places a sense of urgency around the selling process.
Get a Demo of Our End-to-End Event Platform
Planning and executing an event is a big commitment. Monetizing your event is just one piece of the larger puzzle and Notified is here to help bring your vision to life.
Our leading technology is equipped with robust engagement tools ready to take your event to the next level. We are committed to the quality of your programs and supporting your needs.
Contact us today to receive a demo and learn more about our services.