How to Plan a Virtual Event: Engaging Your Audience
by Pete Kidd on Apr 20, 2023 3:30:00 PM

When it comes to planning a successful virtual event, we've discussed the importance of designing an unforgettable user experience, monetizing events with sponsorships, creating valuable content and acquiring your audience.

Once your audience arrives however, it's critical to keep their attention.

Engagement can prove to be difficult in a virtual environment. The nature of attending an event online (as opposed to in-person) means there is a plethora of distractions vying for attendees' attention: email, social media and other tasks might quickly pull them away from the event you worked so hard to plan.

Keep reading to learn about the engagement strategies you can use to capture your attendees' attention and leave them feeling informed, connected and inspired.
Why Do People Attend Conferences?
First, it's important to recognize why people attend business conferences. Typically, attendees are hoping to gain value from two primary sources:
The learning opportunities offered by attending presentations, talks, panel discussions, and breakout sessions.

The opportunity to network with like-minded professionals.
In order to create an engaging virtual event, you must enable your attendees to learn and interact with their fellows as easily as they would at an in-person event.
How to Incorporate User-Generated
The first way to engage your virtual audience is through the inclusion of user-generated content.

Mention the term "user-generated content" and most people think of blogs (e.g., Medium, WordPress, etc.) or forum sites like Reddit and Quora. On these sites, users publish questions, opinions and perspectives and invite others to weigh in.

In a virtual event, user-generated content is a bit different. Instead of published posts that spur a conversation, the user-to-user content looks more like a networking event. In fact, user-generated content forms the basis of how attendees engage with one another in a virtual event.

Here are a few examples:
Moderated Chat – Think of an "Ask Me Anything" session that features your keynote speaker. A moderated chat session enables the speaker to engage with the audience via text-based chat. Audience members submit questions and comments. On the back end, a moderator views comments and questions and decides whether to approve or reject each one. The speaker can then post responses and comments publicly or privately.

Networking Lounge – The networking lounge is an open and unmoderated group chat area where attendees can gather, meet and converse. Think of it like a "group text" in which people post comments and others reply. Attendees like to visit the networking lounge to see who else is attending the event and to ask each other about favorite sessions.

Private Chat – In addition to the open, public chat supported in the networking lounge, attendees can initiate private, 1:1 chats with other attendees. Think of it like the conversation that's sparked when standing in the food line at a physical conference. In addition, when visiting a sponsor's virtual booth, attendees can initiate private chat sessions with booth representatives who are online at the time.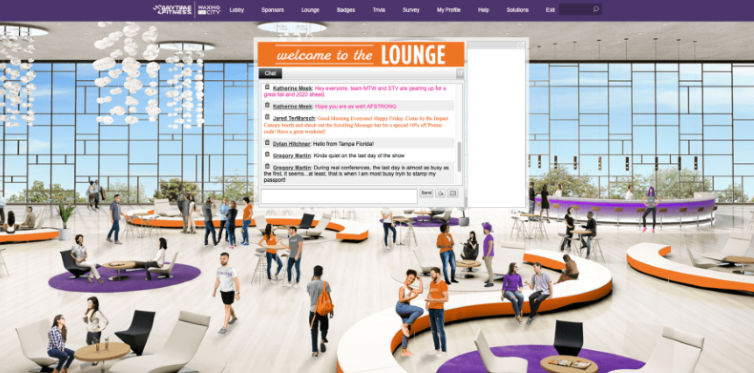 Why You Should Include Gamification in Your Virtual Events
The second way to keep your attendees active and engaged in your event is through gamification.

Gamification is the use of game design techniques, including game mechanics and game dynamics, to drive participation, engagement and loyalty with an audience.

To understand game mechanics is to understand human desires and motivations. In all walks of life, we strive for reward, status, achievement, self expression, competition and altruism. Game mechanics can be used in virtual event platforms to drive engagement around these desires.

Game mechanics also include points, levels, challenges, virtual goods, leader boards, gifting and charity.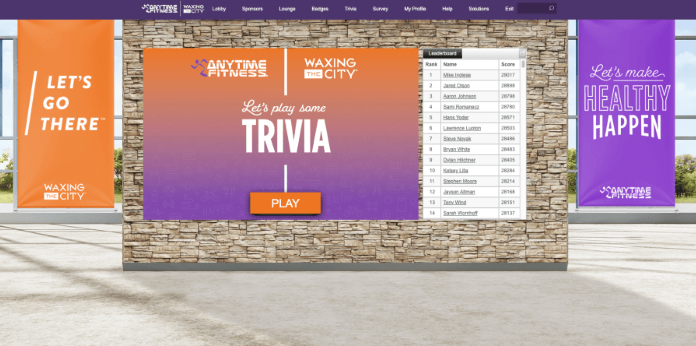 Drive traffic to sponsor booths.

Increase audience attendance in sessions.

Improve peer to peer networking.

Increase content consumption.

Build audience loyalty.

Encourage audience members to join social media conversations about the event.

Increase participation in polling and Q&A during webinar sessions.

How Should Virtual Event Badges Be Used?
To make your gamification elements more effective, employ badges as visual representations of your attendees' participation in the event. Badges are used to recognize, drive and award participants for engaging in pre-defined activities throughout the virtual environment.
Badges are an integral part of each user's profile and provide a way for event planners to map out an attendee journey:
Assign activity and achievement badges that align with the event's goals and objectives.

Sample achievements include:

attending a session, visiting a specific space, chatting with virtual event staff, playing a game or a combination of these and other activities.

Make point values both visible and hidden to help qualify a lead.
Display a leaderboard in the environment to show the top performers to drive the competitive nature amongst attendees and tie it into your giveaway system.
Create opportunities for bonus points, such as comments on LinkedIn, liking a Facebook page, etc.
There are also a few things to consider BEFORE deploying your gamification tactics:
Understand what constitutes a "win" for your event.
Design for the emotional human, not the rational human.
Provide meaningful intrinsic and extrinsic rewards.
Make everything a little more fun: most interactions are boring!
Get a Demo of Our Event Platform
As you plan for your next event, Notified is here to help bring your vision to life.

Our leading event technology is equipped with robust engagement tools ready to take your event to the next level. We are committed to the quality of your programs and supporting your needs.

These engagement tools include:
Maximize ROI

Create a unique brand experience

Connect with a global audience

Keep audiences engaged with interactive features

Measure the impact of your event with analytics
Contact us today to receive a demo and learn more about our services.