How to Plan a Virtual Event: Creating Content and Programming
by Pete Kidd on Mar 2, 2023 3:26:00 PM
When it comes to planning your virtual event, there are many important steps: setting your goals, monetizing your event with sponsorships and acquiring your audience.
But arguably, the most important step for ensuring your virtual event exceeds expectations is in creating your content and programming.
The day of your event, it's important to have everything staged and ready to go. First impressions matter, and in the age of social media, when a poor viewing experience can go viral on Twitter in seconds, it's critical to pay special attention to what attendees see and hear when they first arrive.
Read on for five easy steps to create compelling content and programming for your next virtual event.
Step 1: Use Topics Based on Audience Interest
You should start considering your content early, measuring engagement on your regular content to gauge interest in specific topics.
Months prior to the virtual event, engage with your target audience to determine the topics they're most interested in. Understand the primary challenges they face and the burning questions they need answered, and use quantitative and qualitative approaches to understanding their interests.
Step 2: Determine Your Agenda and Run of Show
There are several program formats and scheduling options to consider when planning a virtual event.
Presentations can be live, simulive, pre-recorded or on demand. Layouts can include traditional webcam and slides, video-centric or interactive with additional panels added for increased engagement.
Timing is also something to consider. Presentations can be short or long, but whichever option you select, you should always make time for Q&A. For example, if your presentations are scheduled to last 60 minutes each, you should plan for 45 minutes of content with 15 minutes set aside for Q&A. For presentations scheduled to last 30 minutes, 5-10 minutes should be dedicated to questions.
A successful event takes all of these into consideration and combines all formats, layout options, and session time to cater to the audience and business goals. Don't forget to build breaks into your agenda to give your attendees time to experience the event, check their email, and stretch their legs.
Once you have your agenda set, be sure to include calendar invites in your email communications and event website so your attendees can block the time on their calendars.
Step 3: Use a Virtual Host
We use the term "virtual host" to refer to a person, recorded via video, who welcomes attendees to the event. The video greetings are placed in the lobby or entrance of the virtual environment and are the first thing attendees experience as they login.
Virtual hosts help provide a personal, multimedia-based welcome to attendees. The recorded greeting helps acquaint participants with the platform, the schedule for the day and the main areas of the environment. For attendees arriving at the beginning of the event, the virtual host can highlight the first scheduled session of the day (like the keynote presentation).
The virtual host can "show" attendees around the space, explain when to use chat vs. Q&A vs. technical support, and explain how to use the briefcase. Virtual hosts can also appear throughout the environment in different spaces and can also introduce presentations with pre-recorded or live introductions. Virtual hosts can be a great way to guide attendees through the event, just like an MC.
Step 4: Train Your Speakers
For people used to presenting to an in-person audience, speaking to a 100% virtual audience can be challenging. They can't make eye contact with anyone or read body language and may wonder if anyone can even hear them.
As a virtual event host, be sure to spend one-on-one time with each speaker to train them on the virtual event platform and teach them how to best present to a virtual audience, keeping in mind the following items:
Embrace the nature of LIVE:
Don't try to be perfect – mistakes are relatable.

Keep your tone real and natural to connect with your audience.

Avoid reading your slides.
Being nervous isn't a bad thing: This shows that you're human, and it shows that you care about your presentation. We're only blase about things we don't see value in; if nerves help you put extra effort into preparing to be on camera, then they are your friend.

Be authentic: Big expressions, nervous laughter, and natural energy are all part of what makes each presenter unique. Let authenticity shine. If mistakes are made, keep going! This makes presenters more personable, relatable, and will ultimately make their content stand out to viewers.
Step 5: Create a Strong and Compelling "Open"
Make your opening as memorable as possible and keep things creative.
Upon login, capture your audience's attention with the theme of the event and the tone you are trying to set. Prominently list the first scheduled activity of the day and keep the live content and conversations flowing throughout the entire event. Use games, badges, prizes and other incentives to create a friendly spirit of competition and keep attendees engaged with one another.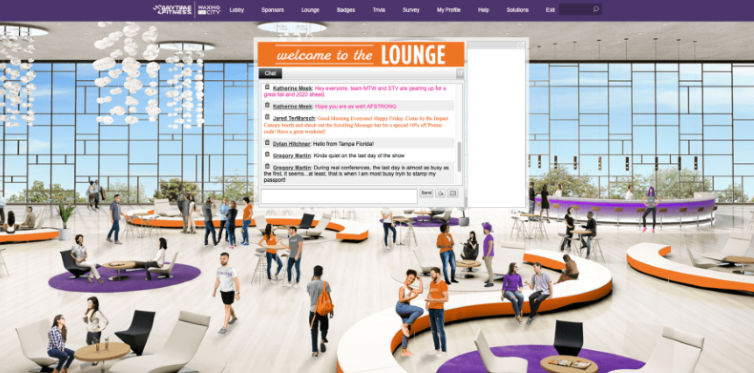 Self Esteem Brands' virtual event lounge.
Get a Demo of Our End-to-End Event Platform
As you plan for your next event, Notified is here to help bring your vision to life.
Our leading technology is equipped with robust engagement tools ready to take your event to the next level. We are committed to the quality of your programs and supporting your needs.
Our engagement tools let you:
Maximize ROI
Create a unique brand experience
Connect with a global audience
Keep audiences engaged with interactive features
Measure the impact of your event with analytics
Contact us today to receive a demo and learn more about our services.