How to Plan a Virtual Event: Acquire and Engage Your Audience
by Pete Kidd on Feb 23, 2023 3:26:00 PM
Audience acquisition is a critical element of your virtual event program. Without the right audience, your award-winning virtual experience can go to waste.
What's also critical is how you engage that audience throughout the acquisition process.
Here are 10 tips for how to acquire and engage your virtual event audience, no matter if you're a large enterprise or a small organization.
Pre-Event Tips
Before the event, your objective is to maximize registrations from your target audience. Let your audience know the date and time, the featured presenters and what's in it for them.
Tip #1: Align Your Program Strategy With Business Goals – Define success metrics based upon the business goals that gave rise to the program. Identify at least one business metric that can be attributed directly or indirectly to the virtual event (e.g., net new leads, pipeline created, etc.)
Tip #2: Develop Promotional Materials – This includes:
Event landing page, including registration. Feature the event's agenda, abstract and speaker list. Include social icons that encourage visitors to share the event with their followers.

Integrate registration into your Marketing Automation and CRM system if appropriate. Leverage these platform integrations to ensure all your data is in one place for better segmentation, scoring, qualification and sales follow-up.

Feature the event on your homepage. Prominently feature the event landing page on your website, including the hero/marquee area of your homepage. Also, consider placing a fixed promotion above your site's main navigation.

Create a word-of-mouth campaign. Write remove social media posts that employees, customers and partners can copy/paste to share with their followers with trackable links for each.

Consider a gamification program amongst your sponsors. Enable your sponsors with a promotional kit and encourage them to share the event with their networks. You can incentivize them with additional leads for the sponsor that acquires the most registrants or a discount on their sponsorship.
Tip #3: Schedule Your Promotions – Your promotions should contain:
Email blasts. Email is the number one driver of pre-event registrations. Test different subject lines and times to identify the best open, click-through and registration rates. Send a "Your event is starting – log on now" approximately 15 minutes before the start of the event. This not only serves as a useful reminder but also provides users with the login link. Users can click to attend, without searching for the link in previous emails.

Social media. Schedule multiple posts across your social channels (e.g., Twitter, LinkedIn, Facebook, Instagram). Define a hashtag for your event and include it in all social media posts. Include images or video to attract attention. Also, consider promoting the event in relevant LinkedIn Groups.

Blog posts. Write blog posts to promote the event. Interview speakers and highlight exhibitors. Use this channel to drive interest around the event.

Press release. Publish a press release to announce the virtual event. Make sure to mention key sessions and speakers. Include the event registration link in the press release.

Search Engine Marketing (SEM), also known as paid search. Allocate a portion of your budget to pay-per-click (PPC) advertising. Your PPC ads on Google and Bing will drive targeted visitors to your event's landing page.

Paid Media/Industry Partnerships. Team up with associations or partners with a membership base that fits your audience profile. Leverage digital programs such as sponsored newsletters, display ads, email blasts etc. to get in front of them.
Tip #4: Engage and Activate Influencers – Industry influencers can promote your virtual event and encourage their followers to register and attend. Start first with your event's speakers. Arm speakers with social media posts that they can share with their followers. Record short videos with speakers and upload the videos natively to your Twitter, Facebook, LinkedIn, etc. profiles. Next, engage with other industry influencers and ask if they'd be willing to promote the event to their followers.
Tip #5: Measure, Evaluate and Adapt – Here are a few ways you can do this:
Implement tracking links for all channels, sponsors, speakers etc. so you know where your registrants are coming from. Maintain a master list of your tracking links so you can keep track of all your sources.

Use Google Analytics, Facebook Insights, AdWords dashboards and other reporting tools to see which virtual event promotions are working well. Optimize future promotions based on these findings.

Check your registration list and calendar invites to see what audience you are not reaching. Is there an audience segment you're not reaching?

Encourage registrants to share the event with their networks. Post a message such as "I've registered for VIRTUAL EVENT LIVE, happening on June 29th. Won't you join me?"

Share results and recommendations with executive sponsors and stakeholders. If appropriate, ask them for feedback and suggestions.
During the Event
If you've done a good job with audience acquisition pre-event, you can expect a large turn-out when you go live. Having a large audience attend your virtual event means increased pressure to keep them engaged.
Tip #6: Have Attendees Touch Their Keyboards Every Two Minutes – To clarify, we're referring to every two minutes throughout the entire event. You can do this through Q&A, polling, chat and trivia. It's an ambitious goal; however, if you're able to achieve it, chances are your audience will find the event quite engaging.
Tip #7: Upload Content and Highlights in Real Time – Publish key takeaways to social media, email and blog posts throughout the event to create buzz.
Tip #8: Use In-Event Announcements – In-event promotional tools can be used to easily share content without leaving the experience. For example: announce details of the latest prize or highlight the person atop the leaderboard.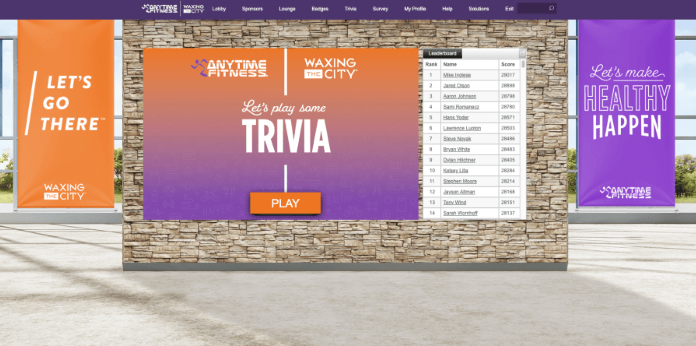 Virtual event trivia and leaderboard.
Post-Event Tips
After the live event is over, ride the momentum by continuing to engage your audience and get their feedback on the experience.
Tip #9: Send Out Feedback Surveys – Survey your audience, both quantitatively and qualitatively. Ask for numeric ratings on key elements of the virtual event and ask them to share their comments. Ask what topics they'd like to see covered in future events.
Tip #10: Repurpose With a Purpose – Create a highlight reel or curate content about the event. Create blog posts and presentations highlighting interesting takeaways from the event.
Get a Demo of Our End-to-End Event Platform
Whether you're hosting virtual or hybrid events to reach customers, employees, investors, or partners, Notified is here to help bring your vision to life.
We host over 100,000 webcasts and virtual events annually on behalf of thousands of customers around the world while providing dedicated support with a focus on data.
All virtual events include:
Dedicated project manager
Interactive environments with live & on-demand programming
Flexible branding and personalization options
Accessibility – anytime, anywhere, and from any device
Robust analytics and reporting
Contact us today to set up a free demo.