How a Media Contacts Database Can Improve Media Relations
by Michelle Garrett on Mar 29, 2023 3:28:00 PM
As part of your public relations efforts, reaching out to the media is often high on the list of priorities. Media coverage earned through outreach has many advantages.
But – how do you go about conducting research on which journalists and media outlets you should contact? And once you've done research, there are always changes taking place in the media landscape. How can you keep up with the moves journalists make to ensure you're sending pitches to contacts who are the best fit?
A media contacts database can be a helpful tool as you work to build a list of reporters who cover your industry.
In this post, we'll take a closer look at media databases and some of the advantages they offer as you aim to raise the visibility of your company, your products/services, and the stories you have to share.
Media Contacts Databases Explained
First, what exactly is a media contacts database?
If you work in PR or communications, a database of media contacts can help you save time as you research outlets to include on your media list. Having an up-to-date media list is an essential part of your strategy.
The database helps you research by contact or outlet so you can create a list that can be shared or downloaded. The list can serve as a guide when you have relevant news or stories to share.
In addition, a database has updated information on reporters and the media outlets they work for. It also has their preferred contact information, as well as stories they've recently written. Having all this information compiled in one place can save hours of time for PR professionals who regularly conduct research to pitch or place stories.
The Evolution of Media Databases: Printed Directories to Artificial Intelligence
Media contacts databases have been around for a long time. Before they existed online, there were printed directories filled with media outlets, journalists and their contact information. As you might imagine, these were difficult to keep updated.
"Those were almost like the yellow pages of journalists," said Jeff Stacey, Vice President at Notified.
Now that they're available online, it's easier to keep the information updated.
"They've evolved to a point where we can use artificial intelligence (AI) and machine learning to improve the quality and scope of databases," Stacey said.
Beyond using automation within the Notified PR Platform, Notified also employs a dedicated media research team to help ensure your media contacts database stays as up to date as possible.
Not only has the technology evolved, but the type of information in the database has changed, too. As the role of social media in working with journalists continues to grow, its role in media relations today continues to grow, as well.
"Now, it's vital to include a reporter's Twitter handle in a journalist's profile," said Stacey. "It's where journalists are spending time, so it's where public relations pros need to spend time."
In addition to Twitter, Instagram is popular in the consumer products space, Stacey says, so that information is also included when available.
Media Databases Help Uncover New Contacts to Leverage
"While you may have some idea of who you want to contact regarding a particular piece of news or announcement, using a media database can help you uncover additional influencers you may not know exist in your market," said Stacey.
The database can be a valuable resource for finding information about a journalist, such as the various places they've worked. Having that insight may help you find a way to connect with them on a more personal level, helping you build a relationship, Stacey says.
Because you can see what articles they've recently published, you can also reference something they wrote in your pitch – or maybe take note if their current beat isn't a fit for the news you want to pitch.
You can also gain insight into their style. For example, is it harder to hit? Not only can this research feed into your pitch, but it can also be useful if you arrange an interview with a journalist.
You can prepare your client accordingly with a briefing sheet that describes how the reporter puts stories together. This knowledge might even help you determine third-party references you could share with the reporter. Perhaps a particular customer or partner might be a helpful resource to offer as the journalist searches for other sources to speak with about your client.
Purpose in Practice: PR's Growing Priority
Get exclusive data and insights in our eBook.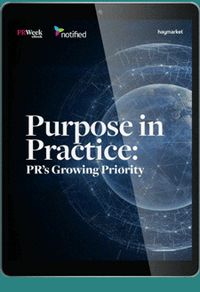 Keeping Up With Media Moves
While a media contacts database can benefit PR professionals, not all of them are created equal, Stacey points out. "At Notified, we revisit every single contact every 90 days to ensure we have the most accurate information for our subscribers."
The database includes the date the information was verified for each contact. Machine learning technology is used to flag any changes, as contacts tend to move around more frequently with layoffs taking place in newsrooms and the consolidation of media outlets.
According to Pew Research, newsroom employment fell 57% between 2008 and 2020, from roughly 71,000 jobs to about 31,000. At the same time, the number of digital-native newsroom employees rose 144%, from 7,400 workers in 2008 to about 18,000 in 2020. Despite this sharp increase, the number of newsroom employees in the digital-native sector remained about 13,000 below the number in the newspaper sector in 2020.
Another point to keep in mind is that some databases contain only basic information while others offer more sophisticated insight that ties into what journalists post and share on social.
"You must have the right tools for the job, and it's better to invest in a tool that allows you to save time to focus on your work, stories, pitches, and other aspects of your job," says Karen Freberg, a strategic communication professor at the University of Louisville.
Advantages of Using a Media Contacts Database
While it's possible to research media contacts without a database, there are considerations to factor in.
"It is doable without a media database, but it takes more time. Time is valuable, so you must weigh the cost of this in the long term," Freberg said.
"We've done the research so you don't have to," Stacey says. Using Notified's platform, subscribers can import existing lists of media contacts as well if they wish.
Finding relevant journalists you can potentially pitch is one important benefit of using a media contacts database. As media outlets continue to shut their doors, there are also new outlets launching. Without a database, you may not know which publications are a fit for your news and stories.
"While it's possible to do your own research, your time might be better utilized by crafting pitches and reaching out to journalists," Stacey said.
Having access to better insight as to who you're pitching can lead to better results. You can improve the quality of your pitches because you can see what the reporters are covering and tailor them accordingly.
It's also easy to see which journalists are most influential based on their reach.
In addition, subscribers gain access to editorial calendars that can be searched for potential opportunities that may be a fit.
Subscribers can also set up a news page within the database, inviting journalists to connect with them there. "We call it a mini-newsroom," said Stacey. "Public relations teams can encourage reporters to follow that page for updates."
Companies can also include press kit information there. "We're making it easier to include images in the press kits, such as product shots, headshots and logos," Stacey continued. "That will make it simpler for journalists to download images versus dealing with attachments, for example."
The Notified PR platform will soon include a library of templates to help public relations professionals deliver customized pitches to journalists. Personalized media pitches can bring better results, with more reporters likely to respond to information tailored to them.
Sending personalized media pitches can be a much more successful approach than spamming a pitch out to hundreds of journalists at once. According to research done by Fractl, 83% of personalized emails sent received feedback with a positive sentiment.
Because your outreach can be done from within the platform itself, you can easily track who you've contacted, when you sent the pitches, and what the response was. If you work as part of a team, you can share notes and efficiently transition from one team member to another as needed.
Media Contacts Databases Help PR Pros Save Time and Build Stronger Relationships
Using a media contacts database can help you save time in your media outreach initiatives, although you still must do the work of creating value for the journalists you connect with.
"What makes a successful media relationship is not how much data you are able to collect, but what you do with the data to help build professional relationships with media professionals," says Freberg. "This should be the primary focus – and if databases help you with this – then it is a worthwhile investment."
If you'd like to learn more about how Notified can help build your media contacts database, click here.