Are Press Releases Still Relevant?
by Michelle Garrett on May 9, 2023 3:32:00 PM
Press releases are a tool that's been in the public relations toolbox for years. They provide a way for companies to get the word out about their latest news and can be plugged into marketing and sales in a variety of ways.
However, over time, there's been some debate about their effectiveness. Do companies still need to write releases and use press release distribution to make announcements? Are they still relevant in today's digital world? And if so, how? And why?
Let's look at some of the reasons why press releases should be a strategic part of your PR, marketing and investor relations strategies.
Why Press Releases Are Still Relevant
1. Writing a press release helps get key players on the same page.
One reason press releases continue to be a fundamental part of a communications program is that the act of writing one can help people from across the company get on the same page. It forces entities from various teams to put their heads together to produce a document that contains only the most vital key messages.
Because a press release should be long enough to convey the points needed yet short enough to be read or scanned quickly, those involved must make decisions about which messages must be included versus those that can be added to supporting documents.
When it comes to writing, a best practice is to include the most relevant bits of information – the who, what, where, when, why and how – and then link to documents that provide more detail. That way, you avoid trying to cram everything into the release yet provide resources for those who want to dig deeper.
In today's environment riddled with unclear, confusing messages, this act in itself serves a crucial purpose. How often can business teams say they're on the same page? Crafting the press release creates a scenario in which they must collaborate and come together on the messaging they want to share.
2. Journalists depend on press releases.
Press release distribution also matters to the media. In many instances, reporters request one. Why? Because they count on it to include all the pertinent information they need to cover a particular story.
"Many of the reporters I work with, particularly in the technology sector, still require news to be packaged in a press release format before they will review it for editorial purposes," said Keith R. Pillow, APR, MBA, Vice President of High Tech, Havas Formula.
Journalists back this up.
"As a journalist in a fast-moving B2B space, press releases are key for our news coverage, for event prep, and for learning about the tech coming out," said Stephanie Hendrixson, senior editor at Additive Manufacturing.
Beyond this, journalists can rely on receiving accurate information when they look to press releases as a source. Media still depend on them for accurate information straight from the verified source. For example, it can be difficult to authenticate social posts – but it's easy to authenticate press releases. They're the best way to ensure the message is authentic.
Wire services vet and verify that the press release is, in fact, being issued by the company itself. That boosts its credibility.
To help increase effectiveness and improve the chances of media pick up, it's important to include multimedia elements in your press release. Including an image or video clip can be a compelling way to draw even more attention to your news. This is because more than 50 percent of the brain's cortex is devoted to processing visual information, according to researchers at Rochester University.
Beyond that, consider other images or video footage that you can have on hand to share if a journalist requests it. If you think about that and plan in advance, you can be ready to share a link to the assembled assets.
Including data and statistics can also make it more relevant to journalists. Whether a company conducts its own research or cites research already published, the inclusion of data can make a story more intriguing. A good journalist will want to know the source of any research you cite, so be sure to link to it.
How to Be More Strategic With Your Press Releases
Improve the performance and impact of your press releases.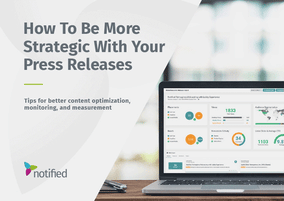 3. The distribution of a press release is usually one part of a larger campaign.
Often the press release is one of the first pieces created for a more sweeping campaign. Then, a multichannel strategy can be built around the messaging.
"As part of a larger PR campaign, I view press releases as useful communication vehicles for announcing different phases or components of the campaign, especially when strategically spaced out over time," says Pillow. "When staggered like that, a series of solid press releases keeps the brand, and the campaign subject matter, top of mind with the media, customers, investors and other stakeholders."
"Press releases are one tool in a toolbox of many including social media, events, email campaigns, ads and more," says Scott Kaminski, Senior Marketing Manager, Häfele America. "While those are all important, press releases can be your most credible tool because you're sending the news to journalists who turn around and put your story under the masthead of their publication. That can be an incredibly powerful mechanism to drive interest, build excitement and get people buying your products and services."
4. A press release fosters communication with audiences beyond the media.
A press release is valuable to a brand's audience because it's coming from the company itself.
The use of multimedia brand storytelling in your release increases engagement from media and other audiences. Sharing your brand's story with both internal and external audiences matters more than ever today as companies work to retain current employees and attract new talent.
"I view a press release as a multipurpose tool which can be used as the foundation for a broad spectrum of audience communication vehicles," Pillow says.
While a press release should be written specifically for journalists using industry-standard formatting and AP Style, once approved, it can be used as the basis for communiques to other groups, such as customers, employees, partners and investors with modifications in tone, style and format made for each stakeholder, Pillow says.
Kaminski agrees.
"If you work in a public company, investors may hang on every word…or at least be reading into nuance and how you phrase things," says Kaminski.
In fact, C-suite executives may even leverage press releases to communicate and keep in touch with key players.
"I've worked with many C-level executives over the years who were primarily interested in press release flow and volume. They liked to see a consistent pipeline of news being issued over time, and they would forward relevant announcements to important customer and partner contacts to keep them informed," Pillow says.
Of course, earning and maintaining trust with your audiences matters now more than ever. While businesses are the most trusted institution, according to the 2022 Edelman Trust Barometer, concerns about fake news are higher than ever. Press release distribution allows all audiences to hear from a company in its own words, increasing trust.
5. Press releases boost visibility, brand awareness and lead generation.
Many brands view press releases as a way to earn media coverage. Once you have a press release, you can pitch that story to reporters who may be interested in the news, generating coverage. Links in the coverage can help with search engine optimization (SEO) and build awareness which can help generate sales leads.
"A press release is really an ideal vehicle to convey and share brand voice – especially when put in the hands of a journalist working at a publication who can amplify that message to your intended audience," says Kaminski.
For new product announcements, a press release can communicate pertinent details to the media and buyers.
"If you work in an industry with a rabid fan base, press releases are a vitally important tool to communicate launch dates, launch event details and generate excitement," Kaminski says.
Pillow says that his clients, particularly the startups he works with, view the consistent news flow communicated through releases as a critical element of brand awareness generation and geographic/industry visibility.
"I don't necessarily view press releases as brand-building tools in and of themselves, but certainly the media coverage they help generate, when the news is properly targeted and pitched, is crucial to elevating brand awareness for brands included in those placements," Pillow said.
6. Press releases can be repurposed in multiple ways.
Once you have it written, what can you do? One of the first ways many brands leverage a press release is to issue it via a wire service.
"Many of my tech startup and early-stage clients like the database pick up and website traffic press releases generate when disseminated by a major press release distribution service," said Pillow.
Beyond press release distribution via a newswire service, the release can be plugged into other marketing, sales, and branding efforts.
For example, you can:
Pitch it to the press: Pitch the press release to relevant journalists who cover news in your industry.

Post on your site: Post the release on your website in your news or pressroom area.

Publish it in your newsletter: If you publish a newsletter, include the news there to reach another audience.

Create content: Consider creating additional content based on the press release, such as a blog post or a customer story.

Leverage it for sales: Make sure your sales team has access to it so they can share it with existing customers and prospects who may be interested.

Use it as a recruiting tool: In some cases, a press release may also be of interest to your human resources department to leverage in recruiting efforts.
"Press releases are a boon for creating content in other places," says Kaminski. "A good headline can be made into a social media post caption. A solid lead paragraph can help populate a product sell sheet or email campaign. The entire press release can be reformatted to create a killer blog post."
Press Releases Are Here to Stay
Press releases will continue to play a critical role across PR, marketing, and IR communications.
If journalists continue to look to them to glean accurate information from the company itself, and other audiences view them as a credible source, the press release is a vehicle companies will continue to leverage to announce their news and tell their stories in their own words.
About GlobeNewswire Press Release Distribution
GlobeNewswire lets you share your news with media, investors, and consumers around the world. Built for PR, IR, marketing, and agency professionals, GlobeNewswire gives you a wide range of options to help you build brand awareness, reach new audiences and drive earned media. Learn more today.