5 Things Every Marketer Should Know Before Hosting a Successful Webinar
by The Notified Team on May 16, 2023 12:53:40 PM
As a marketer, you have probably read about the numerous benefits of webinars and how, if used properly, they can be one of the most effective tools in your marketing strategy.
Webinars offer a unique opportunity to connect with your audience in real time and provide them with valuable information - while also promoting your brand.
However, hosting a successful webinar requires more than just hitting the "start" button. Read on for five things every marketer should know before hosting their first successful webinar.
1. Webinars Are a Top-Performing Channel for Delivering Content
Here's what we know about webinars – they work.
A recent CMI survey discovered that 72% of marketers found that webinars produced the best content marketing results - outperforming eBooks, case studies, podcasts and in-person events.
Webinars prove time and time again that they are an effective marketing tool that can help you achieve your marketing goals. It's recommended part of your budget should be set aside for webinars.
Webinars offer a variety of benefits, including:
Lead generation

Brand awareness

Customer retention

Positioning yourself as an industry expert

Establishing trust with your audience
2. Your Webinar is Only as Good as Your Content
Creating engaging content is crucial to the success of your webinar. You want to deliver content that speaks to your brand but is also of value to your audience.
The key to producing content that's informative, relevant and engaging is to understand your audience and get creative.
Understand Your Audience and Identify Their Needs
Before hosting a webinar, it's essential to understand your audience and what they are looking to get out of your webinar. Knowing your audience will help you create content that resonates with them and provides them with value.
Conduct surveys before the live webinar to gauge what topics are of interest.

Encourage registrants to submit speaker questions prior so the speakers can answer in real time.

Adjust the length of your webinar based on the main demographic of your audience.
For Example: Take into account how much time your attendees can set aside to attend your webinar.
Use social listening to understand what is trending in your industry and what your target audience finds interesting.
Once you have a better understanding of your audience, you can tailor your webinar content to meet their needs.
Break Free From the Slide
The quickest way to lose your attendees' interest is to not have engaging content or speakers. With the latest webinar technology, your presenters can use a variety of media, including slides, videos and live demos, to keep your audience engaged.
You should also make sure your speakers are captivating storytellers and use techniques to connect with your audience on an emotional level and make your content more memorable.
3. Promoting Your Webinar is a Must
Don't wait until the last minute to begin promoting your webinar. Promoting your webinar is crucial to ensure you reach your registration goals and to get those registrants to convert to active participants.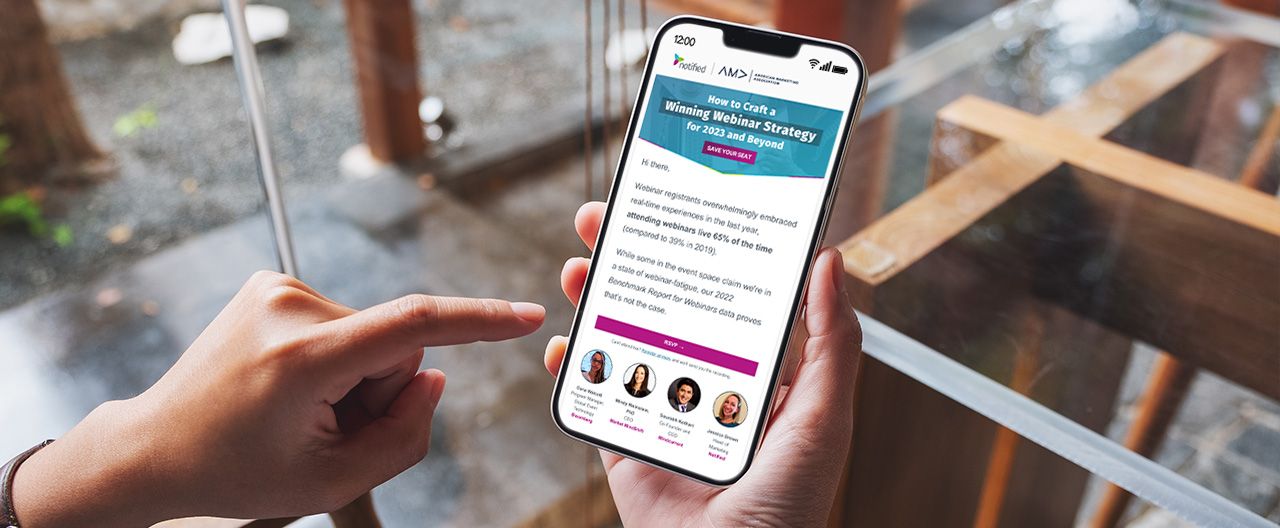 Here are a few foolproof tactics when it comes to promoting your webinar:
Post about it on social media.

Send out emails to your customers and prospects.

Put some of the budget toward paid advertising.

Have sales send personalized emails to customers.

Have your speakers promote the webinar on their channels.

Offer incentives to register like gift cards or free resources.
Make sure to create a landing page that includes all the necessary information about the event, including the date, time and topic.
4. Engage Your Audience Before, During and After the Webinar
Engaging with your audience starts well before the live webinar and continues long after the session concludes. Engaging with your audience will help keep your brand top of mind and can turn those one-time customers into returning clients.
Pre-Webinar
After you get the registrants, don't wait until the 15-minute reminder email to engage with them. Send out emails to registrants that encourage them to fill out surveys and submit speaker questions they want answered that will ensure they attend the webinar.
Live Webinar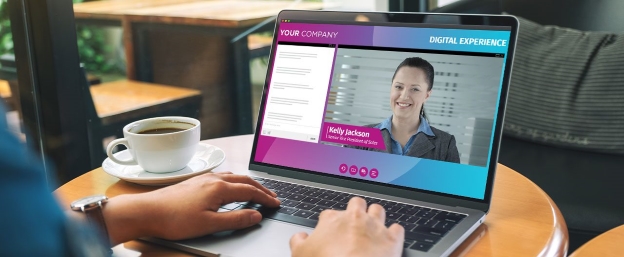 Engaging your audience during the webinar is essential to keep them interested and attentive. You can use interactive features such as live polls, Q&A sessions and chat rooms to encourage participation and feedback.
To ensure attendees are using the features, try to:
Assign an employee to monitor the chat and pose questions that get people to participate.

Have speakers respond to the chat and Q&A in real time.

Have speakers call out specific attendees in the chat.

Encourage attendees to use emojis.
Post-Webinar
Just because the webinar is over, it doesn't mean engagement is. You put so much time and effort into the content that was delivered, don't let it go to waste!
Use follow-up tactics to drive further engagement and maximize the impact of your event such as:
Send follow-up messages to attendees.

Encourage attendees to watch the webinar on demand.

Repurpose the content and turn it into a blog or eBook.

Turn unanswered questions into an FAQ document.

Post a highlight reel on social media.

Send any additional resources or the slides used in the webinar.

Encourage attendees to complete a survey and provide feedback.

Gather feedback from your audience and improve your future webinars.
5. Use Data and Analytics to Inform Your Follow-Up Plan
One reason why webinars are so effective is the immense amount of data they provide that typical in-person events do not.
Measuring the success of your webinar is essential to determine its impact on your marketing strategy. You can use various metrics to measure the success of your webinar, including:
Attendance rate

Engagement rate

Registrant-to-attendee conversion rate

MQL-to-SQL conversion rate
Leverage Ranking and Lead Scoring for Smarter Follow Up
While each organization qualifies marketing leads and sales leads differently, everyone can generally categorize their webinar audience in three camps: registrants, attendees and participants.
After pulling engagement data and placing your audience into these buckets, you should:
Rank based on warmth. Those who attended and participated in the webinar are likely warmer to a sale than attendees are while attendees are likely warmer than people who registered but didn't attend.

Plan and prioritize your follow up accordingly. Registrants may not be ready for a sales call, but they may be receptive to a clip from the webinar they missed or related collateral.

Employ lead scoring to enrich your understanding of the audience.
How to Turn Webinars
Into a Demand Gen Machine
Learn more about lead scoring and follow ups.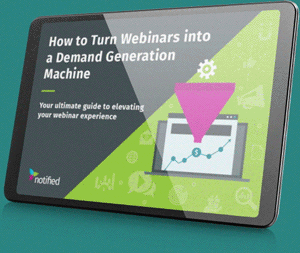 Build Your Successful Webinar Program With Notified
Having a successful webinar strategy requires careful planning and execution. By following the tips outlined in this article, you can create a webinar that provides value to your audience and achieves your marketing goals.
Schedule a demo to learn how Notified's leading platform can help you deliver engaging, accessible and inclusive experiences to global audiences - whether you're hosting a town hall or a demand-generation webinar!